On September 11-12-13, 2016, the "International Conference on Medical Cannabis Cann10" took place in the city of Tel Aviv, Israel. 63 Speakers from various parts of the world gathered in Tel Aviv on the shore of the Mediterranean Sea. The lectures covered a wide range of topics concerning cannabinoid science and medicine. The event had 32 sponsors who exhibited their brands, products and services on the 3 days of the conferences, the gold sponsor being: the "Bazelet Group". http://www.bazelet-pharma.co.il/Professor Raphael Mechoulam opened the event with a presentation titled: "The Cannabinoids: Looking Back and Ahead".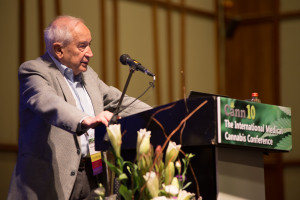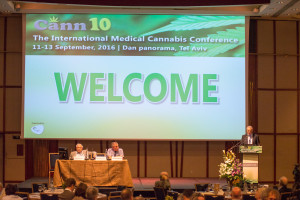 The event was divided into three segments:Science and medicineTechnology and business.Genetics and agriculture.Science and medicine: Speakers and papers: Prof. Zvi Bentwich: History and Future of clinical research with Cannabis. Prof. Roger Pertwee: Pharmacological actions and novel potential uses of cannabinoids. High expectations. Dr. Davi Meiri: From anecdotal knowledge to evidence-based knowledge – The future of cannabinoid research. Prof. Abraham Domb: Pharmaceutical challenges in the methods of administration of THC and CBD. Prof. Reuven For: The use of cannabinoids in hematopoietic stem cell transplantation; clinical and laboratory lessons. Prof. Gil Bar-Sela: Cannabis and synthetic cannabinoids in palliative indications for Cancer patients. Prof. Amos Toren: Eficacia in vivo e in vitro del Cannabidiol en neuroblastomas. Prof. Yehuda Shoenfeld: Cannabis in autoimmune diseases. Prof. Ruth Gallily: Anti-inflammatory properties of Cannabidiol versus Cannabis extracts. Prof. Howard Amital: Is there a place for Cannabis treatments in rheumatic conditions? Prof. Fred Meir Kokonikoff: Cannabis in inflammatory colon diseases – from anecdotal use to medicalization. Prof. Lumir Hanus: Cannabis Treatment: Not as simple as it sounds. Prof. Uri Kramer: Cannabis for the treatment of children with severe epilepsy – Promising results. Prof. Jacob Gindin: Cannabis in the care of medicinally complex older adults. Dr. Alan J. Flashman: Experience with medicinal Cannabis in complex post-traumatic stress. Dr. Daphna Katz: Cannabis and Autoimmunity – The Neurological Perspective. Panel discussion moderated by Dr. Shaul Lev-Ran: "Use of Cannabis in Psychiatry: Why don't we have a simple answer to a 'simple' question?" Panel discussion moderated by Prof Zvi Bentwich: "Will the future of Cannabis research be based on synthetic material or Cannabis extracts?"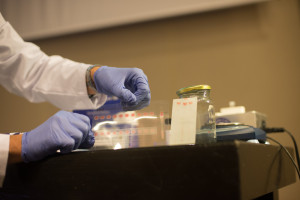 Technology and business: Dr. Avraham Arbel: Advanced Annual Climate Control Systems for Cannabis Greenhouses. Dr. William Z. Levine: Canntrap Technology: a way to capture the cannabinoid complex present in Cannabis smoke / vapor. Prof. Richard Peet: Cannabinoid Biosynthesis – Commercial processes for biosynthetic production of authentic THCA, CBDA and CBCA. Mr. David Spitz: Is Medical Cannabis a fad or a sustainable business? Mr. Emanuel Stanciu: Latest developments and technologies in Cannabis extraction, cannabinoid separation and encapsulation. Mr. Nadav Eyal: Presentando "Eybna Technologies", Israel. Dr. Henrik Sprengel: Medical Cannabis in Germany and Spain – Operating in a complex and restrictive legal framework. Dr. Tamar Gallily: Challenges of patent protection for the medicinal uses of Cannabis – A substance known for thousands of years. Workshop with Prof. Sébastien Béguerie: Determination of the quality of Cannabis. Panel discussion moderated by Ayelet Torem: "Investments in Medical Cannabis: An Adventure? Something real?"

Genetics and agriculture: Dr. Oded Sagee: The use of growth regulators in Cannabis cultivation. Dr. Noam Chehanovsky: Cannabis Genetics: Prospects for the past and future. Mr. Gilav Livni: Cannabis breeding: current trends and the future. Prof. Asaph Aharoni: What is possible with Cannabis? Lessons from model plants. Dr. William Z. Levine: From plant to product: Understanding the rational design and development of robust and consistent Cannabis polymolecular pain medication. Dr. Nirit Bernstein: Treatments for the stimulation and stabilization of cannabinoid production. Expect summaries and reports from each of the conferences.